We're FALL-ing for new consumer habits
It's the middle of October and it's officially fall. Daylight hours are receding, temperatures are dropping, leaves are falling, and COVID is… spiking? The transition into fall usually lures us to sleep longer, eat heartier foods, boost our immunity for the impending flu season, and start preparations for end-of-year holidays and celebrations. But this fall season is unique with a highly charged election cycle, a second COVID spike and a potentially disastrous influenza season.
In an effort to begin navigating this season and understand new consumer habits, the NEXT Data & Insights team surveyed a convenience sample of 1,000 consumers directionally representative of the U.S. adult population on September 15th to find out how they plan to prepare for the upcoming holidays.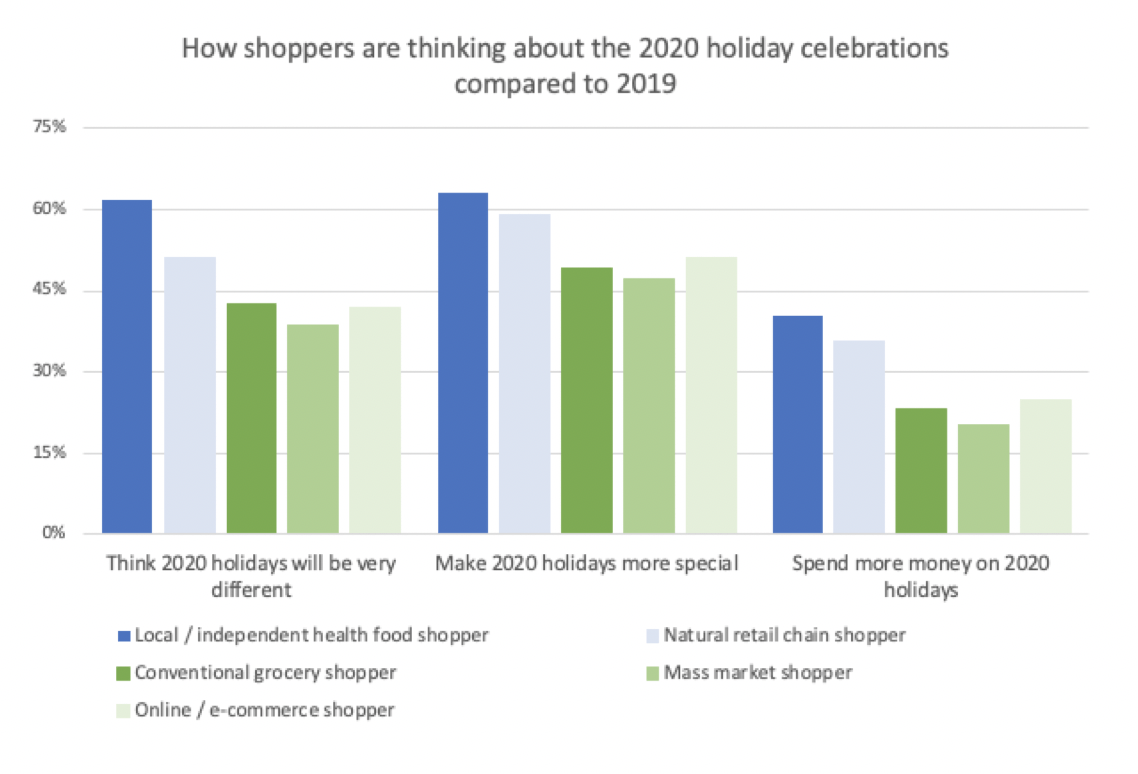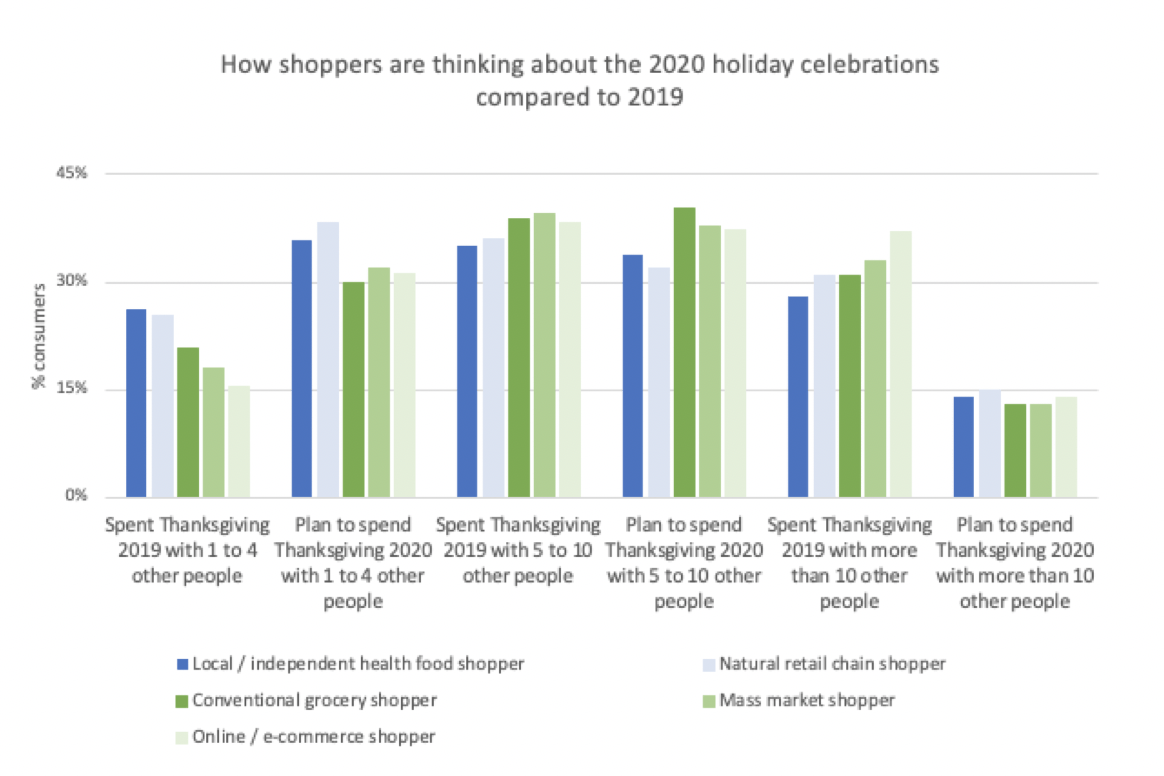 Key takeaways:
Natural and health food channel shoppers expect the upcoming holiday celebrations to be very different compared to last year.
The differences indicate natural and health food shoppers are more inclined to spend more money and make the holidays more special through elaborate meals, unique experiences, and indulgent celebrations.
Overall, all types of shoppers plan to celebrate in smaller groups this Thanksgiving compared to last year, while natural and health food shoppers are most inclined to keep the celebrations contained between 1 and 4 other people.
The biggest takeaway? Large family-sized portions are not likely to see the demand they have in years' past.
In another survey NEXT launched on September 29th, we sought to gauge consumer habits as we prepare for a second wave of COVID spikes and flattening-the-curve policies.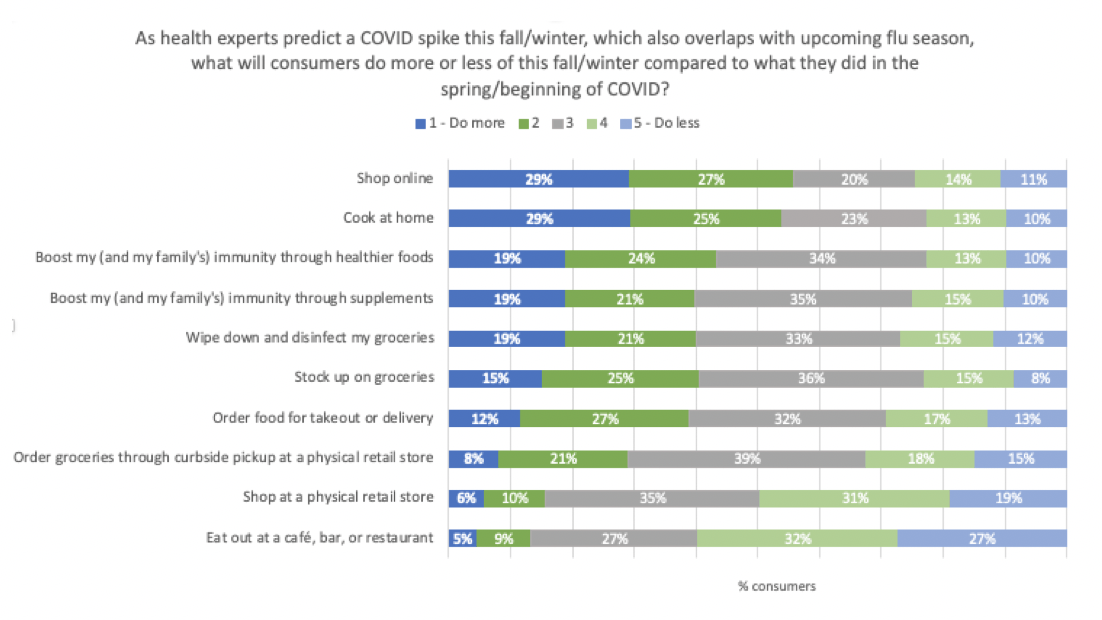 When our surveyed consumers were asked what they plan to do more of compared to the first wave of COVID back in early spring, the responses are hardly surprising:
More consumers will shop online, though stockpiling groceries seems to be farther down the list of concerns.
Consumers plan to cook at home more, leveraging healthier foods for developing and activating the body's immune function, while also buying supplements for immune benefits.
Consumers plan to reduce the number of in-person shopping trips at grocery stores and reduce occasions for eating out at bars and restaurants.
Want to learn more about the future of the immune health market? NBJ's Immune Health Special Report is on sale, through 11:59pm MDT tonight! Get more info about this special report and the sale here. Plus, NEXT is here to help you test how to position and communicate the benefits of your immune-boosting product or concept – let's talk!
Don't forget to download your copy of the NEXT Trend Guidebook 2020 and check out companies leading the way in innovation this year among 57 distinct trends, only $99!