These trends won't end
Earlier this month, our team took part in the Spark Change Modern Health Community Event. This event was a chance to celebrate the unique ability of the natural products industry to meet the health and wellness needs of consumers today through functional foods and beverages, supplements, good nutrition and lifestyle products.
The modern era has its pros and cons, advantages and disadvantages. Life is busy and chaotic, and consumers are feeling the pressure to fulfill many responsibilities and endeavors. In doing so, consumers are looking for solutions to what ails them, as well as solutions to live a life of vitality with a mix of modern and ancient, holistic approaches to health.
In the lead up to this event, NEXT embarked on an analysis to help retailers identify the role each trend may play on store shelves. Leveraging three unique data sets, we analyzed where innovators are placing their bets, where investors are placing their money, and where consumers are spending their time. Our analysis looked at which Modern Health trends are experiencing the highest growth and the highest absolute volume across each data set.The chart below reveals a simplified view of this analysis by ranking the performance of each trend across each of the data sets: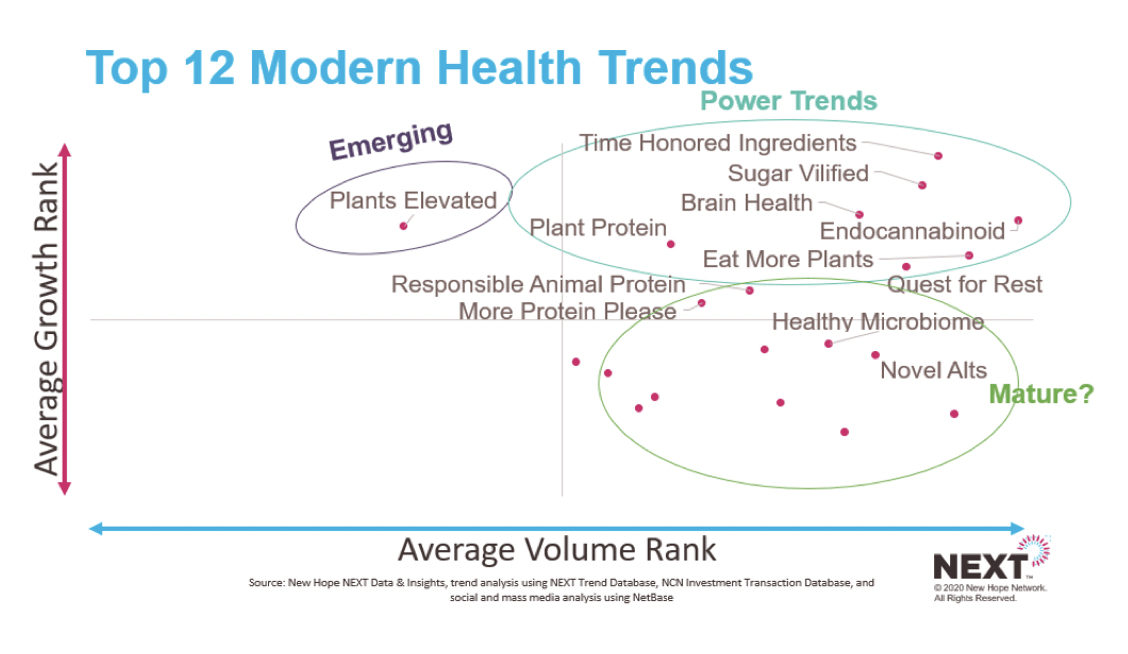 Translating this into our framework for retailer action, we recommend:
Power Trends: These trends are high growth and high volume, and retailers should have on shelf to remain competitive. They showcase the importance of having the most innovative products on shelves to keep consumers engaged.
Emerging Trends: These trends are important to retailers, particularly smaller retailers, as they allow retailers to engage consumers in discussions of what's new and where the market is going. These are high growth but low volume trends.
Maturing Trends: These high volume, lower growth trends need to be on retail shelves because they're important to the industry, but they're also trends that should be closely monitored to ensure sales continue to justify the shelf space they occupy.
If you'd like to learn more about these trends, how certain trends perform within each dataset, or how a similar analysis could help to prioritize your discovery, innovation or investment activities, let's talk!
Don't forget to join us for the Spark Change Organic & Regenerative Agriculture Community Event on October 28th to see how trends in organic and regenerative agriculture perform under the same lens. Plus, we'll be sharing our favorite product picks in this important category. Register today!
And for even more trends, along with listings of innovative companies leading the way, the NEXT Trend Guidebook 2020 has you covered – only $99!