Catering to Keto customers
Last week we started a two-part examination of the ketogenic diet. We provided an empathetic reminder of the role keto plays in some consumers' lives. We also gave context for understanding what some see as paradoxical innovation: keto ice cream, cookies, marshmallows and fudge brownies. After all, how is a supposedly healthy, weight-loss diet now touting junk food?
The question we turn to this week: how big is the keto audience and will it support this sort of innovation? While we haven't completed a full sizing of the keto market, several analyses and NEXT proprietary data sources indicate the opportunity is strong and growing.
Estimates from a NEXT survey show that the percentage of U.S. consumers who self-identify as a keto diet follower has grown 4X since 2015. This figure is similar to the percent who identify as vegetarian or gluten-free.
We've also seen substantial growth in ketogenic product innovation within the natural products industry. Using Natural Products Expo West and the NEXT Trend Database as a window into early-stage innovation in the industry, we've seen growth in a number of carb-heavy categories: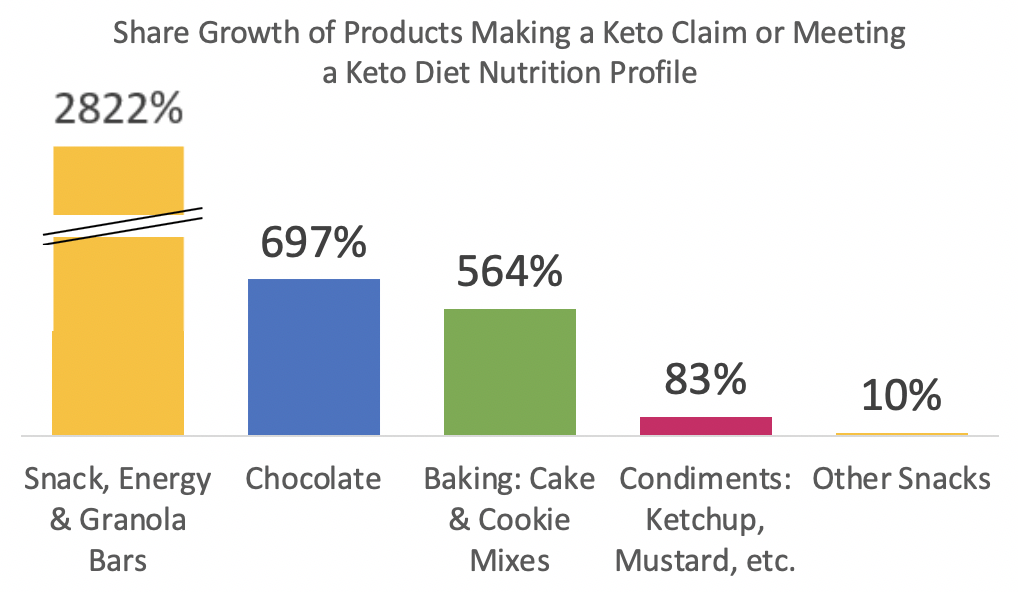 While all of this suggests keto product innovation and consumer interest are strong, one more reference point suggests it may not be as strong as the opportunity currently exhibited by plant-based foods. The plant-based category benefits from relevance among a broader vegan, vegetarian, and flexitarian population. Looking to social and online mass media mentions of these two topics reveals substantially more cultural discourse being allocated to plant-based.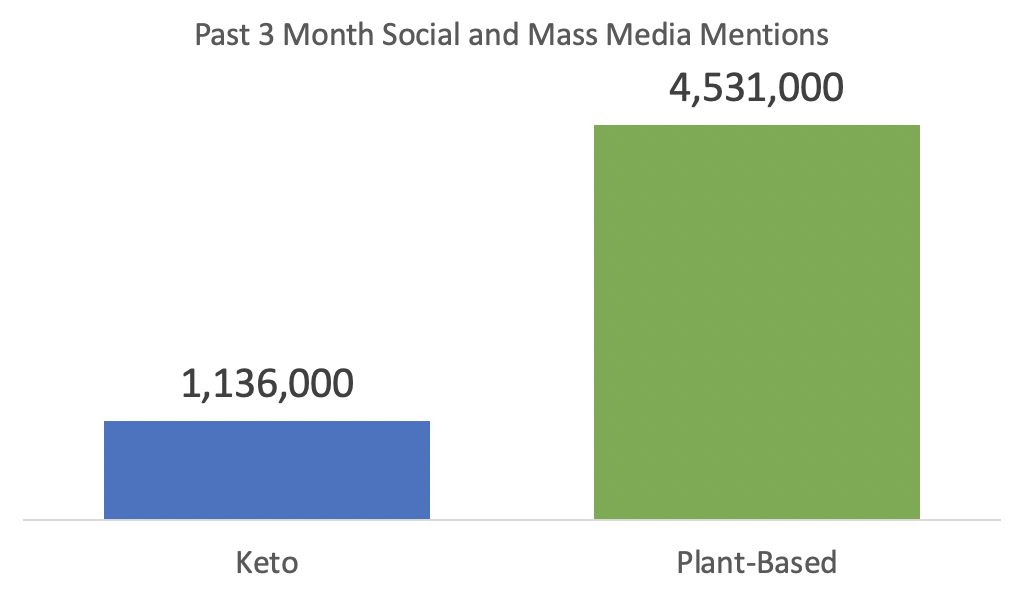 All of this suggests there is sufficient opportunity for brands catering to keto consumers. However, as we are seeing with plant-based, the smartest brands may be those that find ways of making their products attractive to an audience that extends beyond the core keto consumer.
Ready to put on your innovation hat in 2020? Contact the NEXT team to learn more about the innovations and trends driving our industry. Start 2020 on the right foot by testing your product concepts in NEXT's Concept Lab and gaining valuable insights with our budget-friendly Market Research Surveys.