New year, same stress
As consumers grapple with a year like no other, new habits and behaviors have emerged, altering how we do business and meet the needs of a very changed consumer – one that is suffering more than ever from conditions like stress, restlessness, sleep deprivation and energy deficiency.
Ever since "social distancing" became a household term, the NEXT team has been conducting weekly micro surveys on a convenience sample of 1,000 consumers covering a variety of topics to help gauge changing consumer habits. Most recently, we were curious to know how consumers are managing their stress. So, on October 23rd we asked consumers what they're currently doing more of to cope with stress, and what they plan to do more of to cope with stress in 2021.

Relaxing with a good book still tops the list of go-to stress relievers, with 66% of consumers saying leisure activities (reading books, watching TV, etc.) have been their primary go-to for managing stress this year. However, only 59% of consumers report planning to use leisure activities for stress management in 2021. Meanwhile, 58% of consumers plan to do more physical activities/exercise in 2021 (vs. 53% in 2020). And perhaps the most interesting signal is 46% of consumers plan to spend more time on self-care activities (meditation, yoga, massages, baths and other spa-like experiences) in 2021, up from 38% in 2020.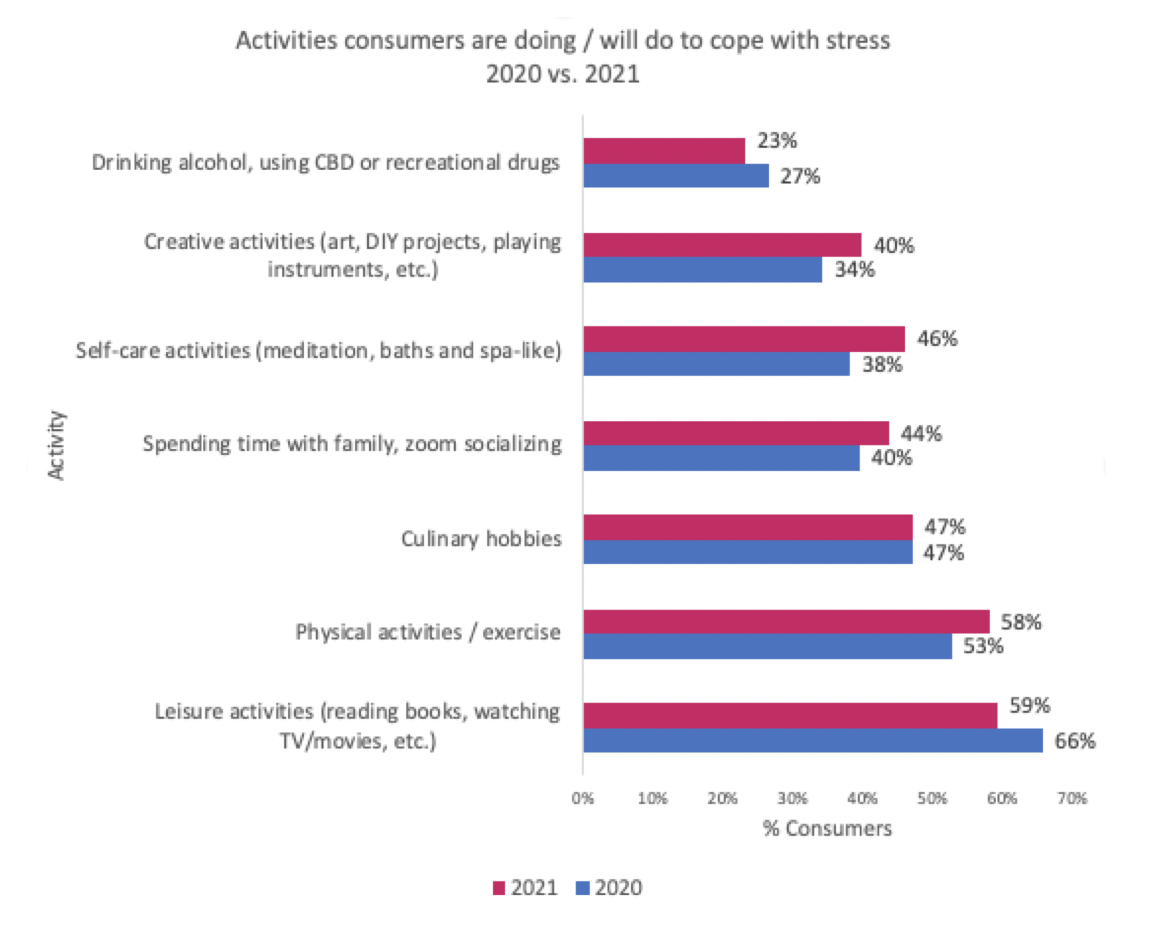 Focusing on self-care is growing among consumers, but do consumers know how to do it successfully – to truly reap the benefits? Helping consumers identify the self-care regimen that works for them and helps them feel in control could be an area of opportunity for natural products brands to explore. As stated in a recent Natural Products Industry Health Monitor, "Helping customers put 2020 behind them and emerge with higher intentions and healthier habits may be among the biggest opportunities the natural products industry has ever faced."
Brands that can give consumers a sense of control, as well as arming them with the tools to do so, seems like a window of opportunity for the natural products industry. NEXT can help you test out your positioning and marketing to connect with consumers on a variety of topics, including self-care. Let's start a conversation!
For a look at the trends that have taken shape this year, along with listings of brands leading the charge, the NEXT Trend Guidebook 2020 has you covered!