Do your values drive value?
During a global health and economic crisis, it's easy to assume consumer values prioritizing social and environmental causes would fall by the wayside. But when we assess and track various data points, there are signals that could make the industry think twice about dismissing consumer emotions around eco-social based purchasing.
For example, NEXT reported on May 22nd that 47% of consumers are motivated to rebuild a fairer and more compassionate world in response to the division and chaos that surfaced during COVID-19. Another example can be gleaned from the trend and exhibitor data we would have seen at Natural Products Expo West 2020. The top three trends represented eco-social and values-driven brand positioning and innovation.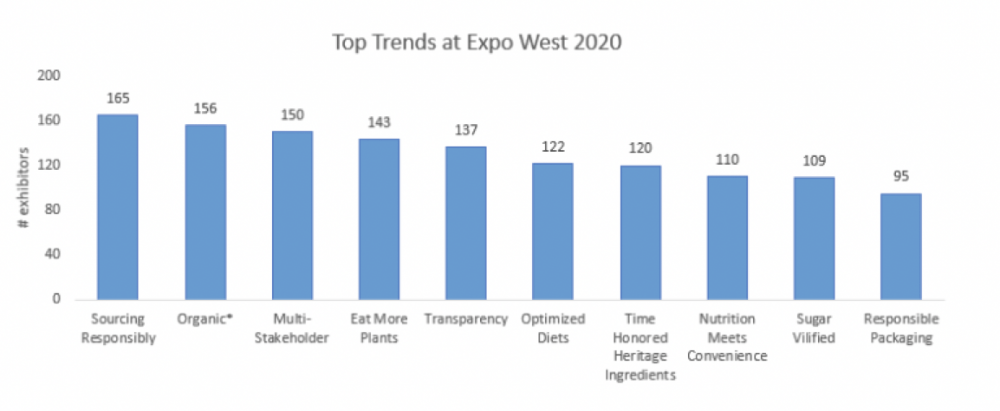 In this case, the top trends were represented by greatest volume of exhibitors lined up to deliver against:
Sourcing Responsibly: sourcing ingredients and materials responsibly through vertically coordinated direct trade, and other supply chain relationships to bring more value and equity to producers and suppliers.
Organic: brands proactively engaging and investing in expanding and growing organic acreage and supply chains.
Multi-stakeholder: revising business practices that cultivate people and planetary health, in addition to financial health through certified B corps, and other strategies that take a multi-stakeholder approach to business.
However, that data reflects how brands and entrepreneurs were positioning themselves back in early March, in response to how they thought their products would meet consumer values. But a lot has happened since early March!
Our third source of data has come through tracking consumer values-based behaviors – giving us a view into how consumers are shifting through an extremely volatile time. Since the onset of COVID-19, the NEXT team has been tracking how consumers might be shifting behaviors due to all the uncertainty during this time. We've been surveying consumers weekly on how strongly they identify with:
Willing to pay more for environmentally responsible practices
Willing to pay more for socially responsible practices
Having concern for animal welfare
Seeing that buying can be a moral decision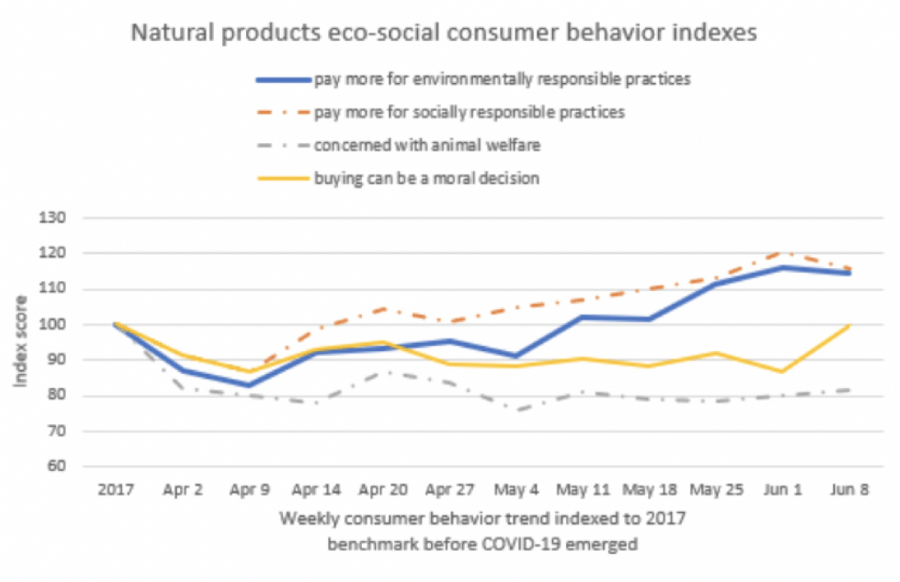 Since the onset of social unrest and the movement to address racism and inequality around the country, and even the world, it's interesting to note how consumer behaviors are netting out through this index. More consumers are identifying with and agreeing with statements that they are "willing to pay more for products that demonstrate environmentally responsible practices" and "willing to pay more for products that demonstrate socially responsible practices." These two values-based markers are notably higher than their pre-COVID benchmark from 2017, which could be a reflection of the heightened awareness and compassion for humanity in response to confronting the social and economic stratifications exposed through COVID-19, compounded by current and on-going civil rights protests around the country.
There is a call to build a more compassionate world, consumer emotions are running high, and there's an onslaught of news story after story engaging consumers to think beyond themselves. Do consumers directly link socially responsible practices with that of a widespread social justice movement? It's unclear, but the emotions of the marketplace are particularly triggered, signaling a greater awareness for fairness and humanity.
Unsure how your brand should navigate these uncertain times? NEXT is here to help with how to best align your positioning, branding, and pricing with today's consumer.
TUNE IN! We'll be discussing Is there a new normal for grocery shopping? on our free webinar, in partnership with Suzy, next Wednesday, June 24th, at 2pm Eastern. We'll be sharing actionable, real-time insights on where consumers are shoppingfor the groceries they need, what this means for the future, and how companies can best support their consumers during the current times. Don't miss it, register today!