An anti-sugar high
As things wind down for the year, we hope you're enjoying the frills of the holiday season: baking sweet treats, cozying up with some hot cocoa, and riding an advent calendar sugar rush. Given the year we've all made it through (congratulations!), we can't be blamed for seeking comfort from the food we consume, and sugar has long been a feel-good fueler. But once that holiday cookie tray is bare, some of us find ourselves pledging to tighten our belts, both literally and figuratively, when it comes to sugar.

If you've walked this well-worn path before (awkwardly raises hand), you're in good, and growing, company. The NEXT team has been tracking the ebb and flow of consumer interest in sugar reduction for some time now by identifying and curating key words and contexts consumers use around sugar replacements, which are part of our proprietary trend, "Sugar Vilified."
Using social media listening tools, we've tracked the frequency of these conversations over time. Our most recent dive into this data set suggests that despite a small, but not uncharacteristic, lull at the very beginning of the U.S.'s COVID-19 awareness, the frequency of these conversations has bounced back and we're seeing consistent conversation and engagement on the topic.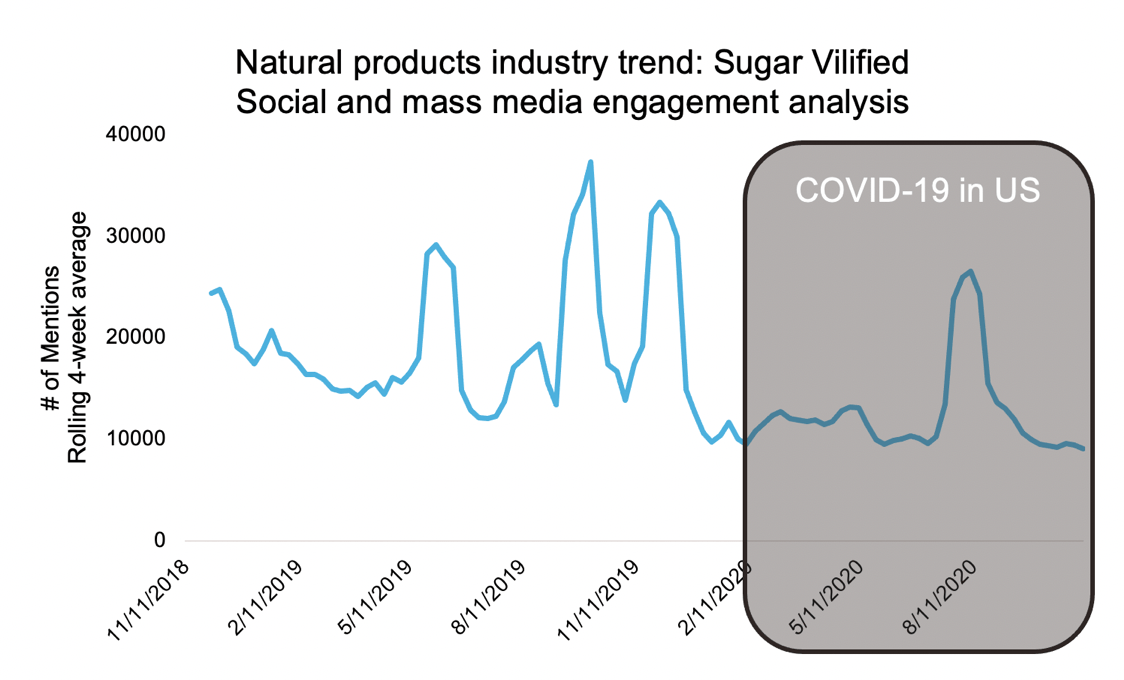 Our survey of U.S. consumer values from earlier this year backs this as well. We found that the majority of consumers are managing and avoiding sugar consumption, and these numbers are on the rise.

Whether you're working on the next big thing in sugar reduction, or seeking guidance around other buzzworthy trends, the NEXT team is ready to support all your business resolutions for 2021. Let's talk!
Aaand that's a wrap! We'll be back in your inbox again on January 8th. Until then, wishing you many happy returns, from your friends at NEXT.