Boost immunity to boost sales
The buzz around immunity these days is fierce. There is much to see, uncover and learn about the marketplace for immunity products and the transformation that is likely to happen. Immunity was already a top trend in the supplement world before the widespread viral pandemic hit, causing consumers around the world to reach for immune-boosting supplements.
Immunity ranked in the top five trends out of 50 trends NEXT tracks across Natural Products Expos, both last year and this year. Immunity also ranked in the top five out of 30 trends we've started tracking at SupplySide trade shows. While SupplySide East was canceled earlier this year, 170 exhibitors were formulating ingredients for food, herbs, botanicals, vitamins and minerals. 18% of those exhibitors demonstrated strong alignment and integrity to bring immune ingredients to market.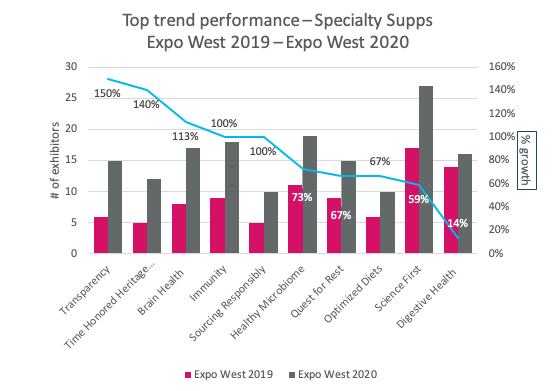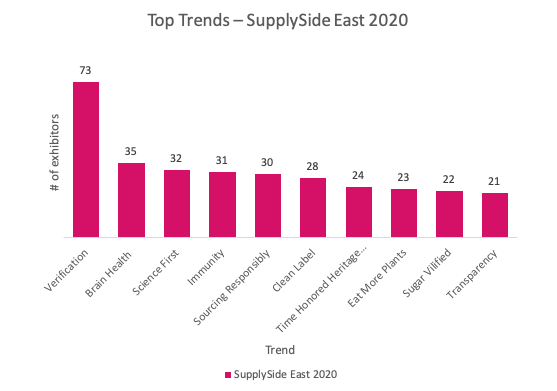 Reflecting on all categories exhibiting at what would have been Expo West 2020, immunity showed 16% growth in number of exhibitors formulating for immunity solutions compared to Expo West 2019.
Let's take a look at some categories that are showing up as emerging immunity innovation areas at Natural Products Expos. Outside of supplements, we're seeing more products are suggesting probiotic-infused kefir and yogurt may support immunity. And snacks like dried fruits, snack bars and energy bars are introducing immunity claims.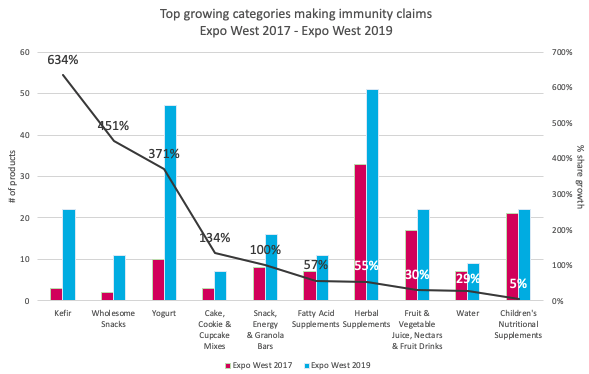 Is there an immunity tranformation taking shape in the marketplace? Is it new ingredients? New science-backed processing methods? Changing consumer perceptions and behaviors? Connect with NEXT Data & Insights to help with all your market research needs to determine products for success.
Plus, read up on the latest from Natural Products Industry Health Monitor: Business lessons as second lockdown looms.