Sustainability claims are pouring into the beverage category
Environmental and sustainability claims are growing in prominence in the beverage category, according to NEXT's Trend Database. The database is a repository of all products exhibiting at Natural Products Expos, which allows us to analyze growth of product attributes (i.e., ingredient lists, claims, certifications) over the years. The NEXT team also leverages this forward-looking database to identify and analyze product innovation trends in the natural products industry as they are happening. With new products launched every year, we can identify pockets of emerging innovation, the evolution of trends, and trends of critical mass.
As advocates for business as a force for good and the creation of products that have a positive impact on culture and society, we're raising our glasses to these exciting developments in the beverage category. Below we see tremendous growth in beverage sustainability claims, with fair wages and renewable or sustainable packaging leading the way.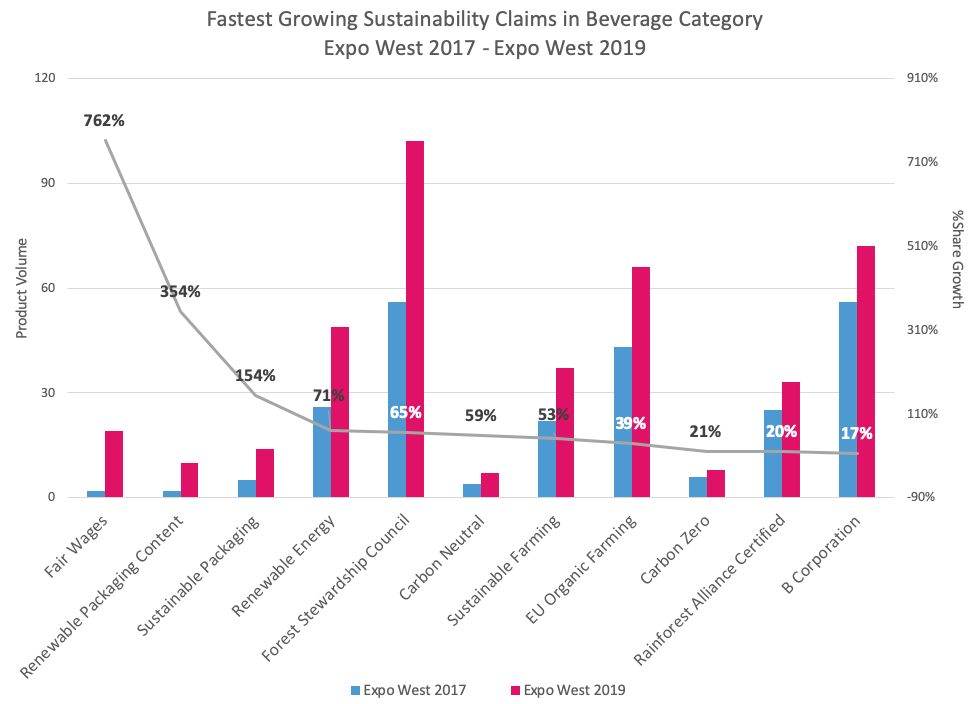 The NEXT Trend Database can identify various trends as they're happening, from marketing and sustainability claims, to ingredient trends and category growth. Curious how your product or idea stacks up? Contact the NEXT Data & Insights team to learn how our unique suite of forward-looking data and services can help you determine where to place your next innovation bet.