Is coconut water passé already?
Keeping up with the trending beverage of the hour is enough to make your head spin. Once the top dog of beverages in 2014, coconut water seemed like the greatest thing since sliced bread (not that we were eating sliced bread in 2014). Today it seems humdrum in the fickle world of beverages.
Coconut water concepts have been a frequent visitor to NEXT's Concept Lab, where we've tested a version of it every single month since 2014. That means we've surveyed 45,000 people on their market prediction: will people buy more of this product in the future, or less?
So far, our respondents have predicted correctly: It would take off, then it would slow down, and keep slowing down in the future.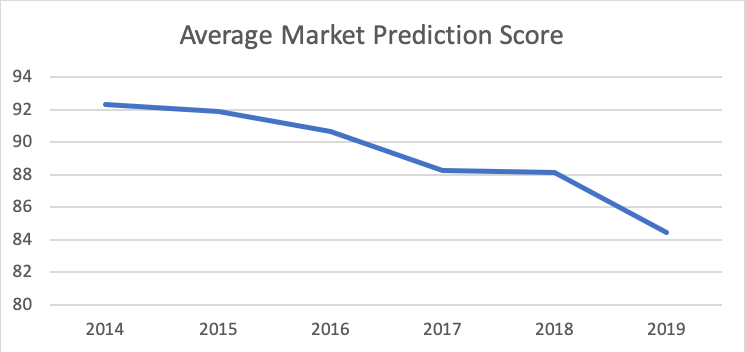 Nielsen data backs this up. In 2016, the market grew on a dollar basis. Then, it started to fall. The latest Nielsen U.S. scan of the food and grocery category (which is inclusive of total grocery stores, drug stores, mass merchandisers, select dollar stores, select warehouse clubs, and military commissaries) shows that it fell $1.6 million in 2017 and then $4.8 million in 2018 (Source: NEXT analysis powered by Nielsen US Scan, calendar year 2016-2018). And consumers believe the drop will continue.
Why? Concept Lab respondents said it's not as healthy as they once thought it to be, it's peaked, they don't love the taste, and they don't think more people will be cuckoo for coconut water in the future.