Digging into the data behind the Clean Label movement
Last week we talked about the foundation of the Clean Label movement. This week we'll dive into the importance of emotional drivers of clean label with survey and innovation data.
Functional Clean Label isn't enough, values matter
NEXT Data & Insights' survey data reveals functional and emotional clean label metrics are of roughly equal importance.

Functional dominates certification volume, while emotional drives growth
The marketplace is responding to both functional and emotional attributes. Through our coded database of products from Natural Products Expos, we can see which certifications are appearing at the shows and which are growing.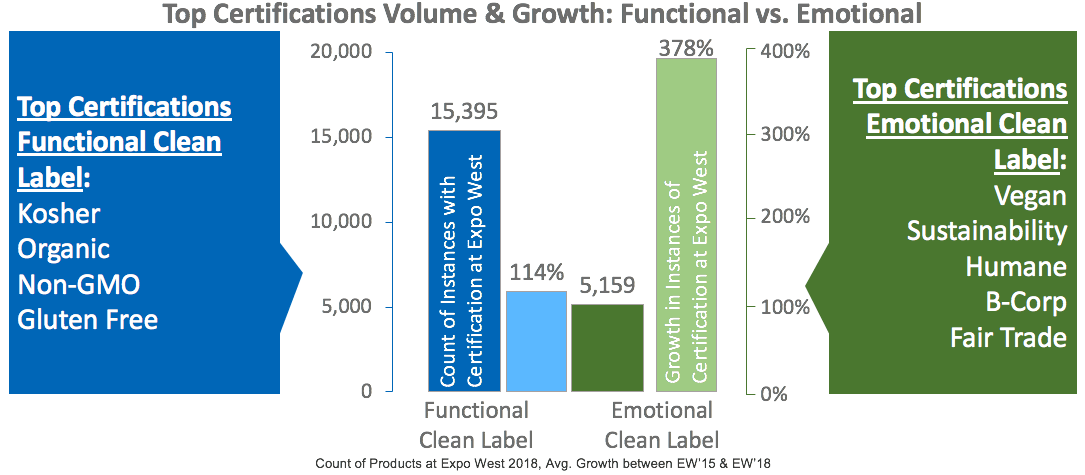 Among the top nine certifications at the show, functional certifications like Kosher, Organic, Non-GMO, and Gluten Free represent the largest volume of certified products. However since 2015, there's been considerably more growth in emotional certifications like Vegan, Sustainability, Humane, B-Corp, and Fair Trade.
The bottom line
While businesses and brands must respond to functional consumer demands for Clean Label, there is also an opportunity to meet consumers values as well as build trust and transparency. To learn how the clean label movement impacts your brand, contact the NEXT Data & Insights team.