Putting a dent in unprecedented times
Is 'disruption' really the right word to illustrate progress and innovation in the natural products industry? The novel coronavirus has certainly given new meaning to the word disruption – void of inspiration and innovation – describing chaos, uncertainty and dread. Instead, focusing on goals like 'transformation' is what the food industry needs right now.
So what have we learned through all this unsettling disruption that can lead us to transformation and success in the future?
47% of consumers are motivated to build a fairer and more compassionate world post-COVID (as of May 4th)
42% of consumers are ready for non-essential leisure shopping (as of May 19th)
47% of consumers are not ready dine in at bars or restaurants (as of May 19th)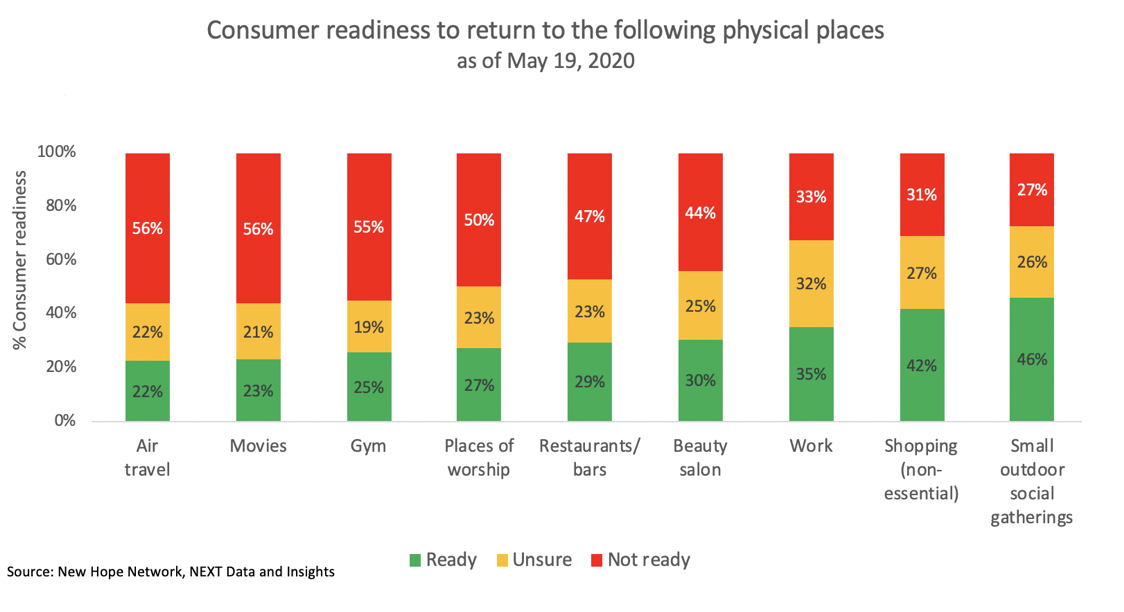 Consumers are still aligning with eight core natural product industry purchasing behaviors:
Eco-social behaviors like paying more for environmentally and socially responsible practices, concern for animal welfare, and buying as a moral decision
Nutritional quality behaviors like paying more for high-quality ingredients, value who grew the food and how it was made, seeking food to maximize nutrition, and prioritizing natural brands
NEXT has been tracking these behaviors over the past two months, compared to a 2017 benchmark. While sentiment certainly dipped as consumers settled into their socially distanced and stay-at-home lives, it has since recalibrated with pre-COVID stats. What's interesting here is nutritional quality concerns, like paying more for high-quality ingredients and valuing transparency, are resonating more with consumers than eco-social concerns.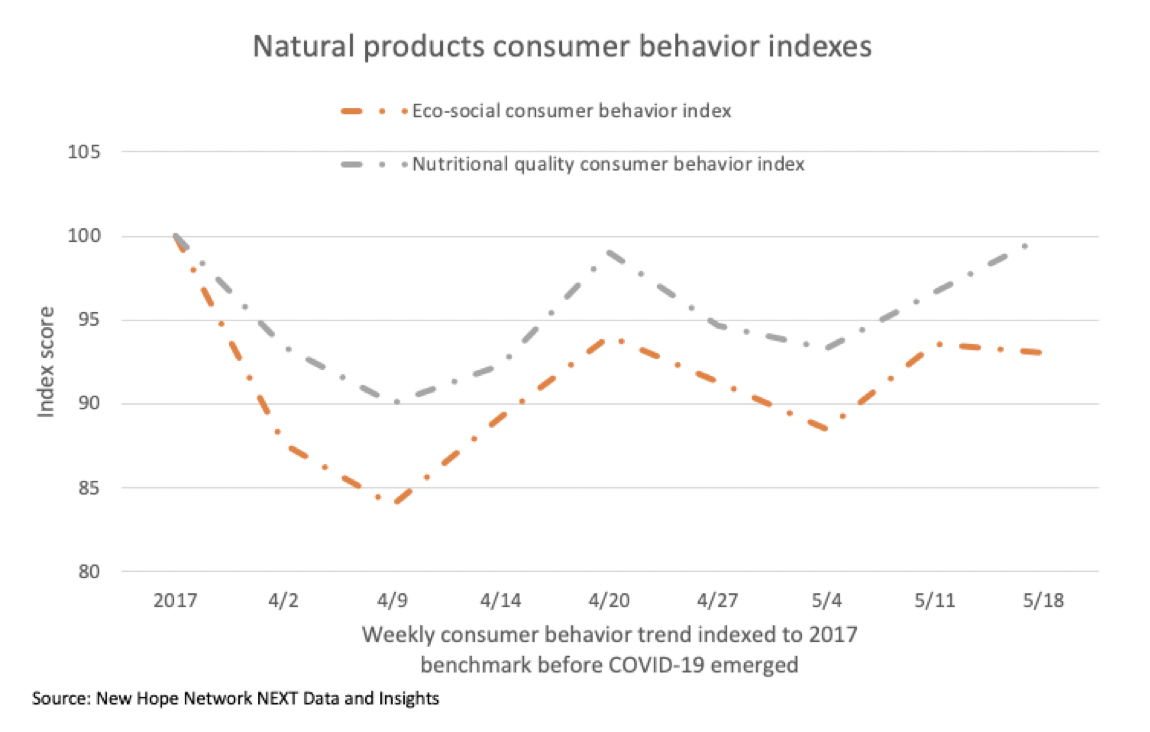 With consumers reluctant to visit restaurants, motivated to build a compassionate world, and seeking high-quality ingredients and transparency, there is a huge opportunity to dig in and reveal "the how" behind your products. Hot new ingredients and lifestyle diets are all the rage, but perhaps not transformative enough to stand out for consumers during this time. Story-telling and communication could become an even more important part of transforming brand innovation for today's marketplace.
We would like help you better understand how COVID-19 is impacting your customers. Let us know how we can help by emailing Tara Burkley here.
Plus, don't miss this week's Natural Products Industry Health Monitor: Shoppers find confidence, and new products, in natural retail aisles.