The healthy eating revolution
A look at recent headlines might have you convinced U.S. consumers are all-in on all-things-healthy. Organic food sales hit a record-high of $60 billion last year, according to Supermarket News. And the U.S. natural and organic products industry grew nearly 13% to $259 billion across all sales channels in 2020, according to Nutrition Business Journal. So, it would appear we've got the whole healthy eating thing figured out, right?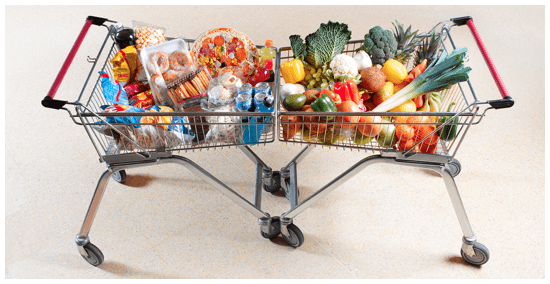 Well, maybe not quite. The truth is, consumers are still struggling between, "what's good for me" and "what I'm craving." A recent study from our partner Suzy, a real-time market research platform, suggests that while consumers want healthy superfoods, the temptation of indulgent foods is unwavering. Are we witnessing a healthy eating paradox?
78%
agreed that a healthy diet can have a positive impact on their bodies.
79%
agreed that a healthy diet can help them live longer.
2/3rds
told us they follow a healthy diet for at least half of their meals.
And yet, less than 10% of respondents said they follow a healthy diet for every meal.
In our recent webinar, co-hosted with Suzy, Industry Superpowers: Redefining consumers' healthy eating habits, we brought this battle between healthy and indulgent to life. Using behavioral data and brand examples, we uncovered the latest "super trends" in the food and beverage industry, including consumers' changing eating habits and their expectations of sustainability in food.
Tune in as we examine the relationship between willpower, motivation, the role of cravings (say cheese!), affordability, access and more. We'll also dive into the three main shifts we're seeing in the marketplace.
There's a growing opportunity for brands to attract consumers to healthy eating as wellness and self-care trends continue to rise. Can your brand save the day by helping people overcome the healthy eating mental block? Can you make healthy foods feel like comfort foods? NEXT is here to help you explore this paradox and unlock new opportunities to serve consumers, let's talk!
See you NEXT month!