They grow up so fast
The natural products consumer isn't who they used to be. From supplement companies to functional food and beverage brands, many are seeing changes as the marketplace continues to expand and attract a younger and more diverse group of customers.
Smart brands will use this influx of new consumers to create more dynamic market strategies. You may already be thinking about:
New business ideas
Updating and adapting your long-term strategy and planning process
Urgently responding to changing marketplace demands
NEXT Data & Insights has been tracking consumer attitudes about health based on age and consumer category, with research showing that younger consumers seem to be both more independent and more concerned about collective social issues.
For example, experts in youth culture point out:
Youth today are beginning to see confidence in oneself as the definition of beauty
They expect citizenship from brands, engagement beyond their purchase in something bigger
They're seeking values and moral congruency from businesses they choose to engage with
Value-seeking was evident in our generational analysis of our Changing Consumer research, conducted in Q2 of this year:
Consumer Preference for Practical Value vs. Brand Mission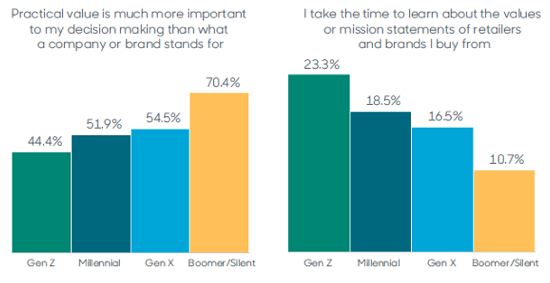 When these same natural channel shoppers were asked which emotional health needs they are spending more money on compared to 2019 (before COVID-19 emerged), anxiety, stress and energy saw the biggest increase in investment.
Natural channel shoppers are spending more on products
and services to manage anxiety, stress and energy

So how do you create strategies that will be as dynamic as your fast-changing target market?
The first-ever Changing Consumer Special Report has done your market research for you. This report, created in partnership with Nutrition Business Journal, highlights the trajectory of the US supplement consumer and provides the data and insights you need to support consumers' evolving definitions and attitudes about health and supplement use, based on age and consumer category.
Eager to learn more about your consumers, young and old? NEXT has a variety of consumer surveying options, let's talk!
See you NEXT month!