Now trending in modern health
As New Hope Network transitions from the Spark Change Mission-Driven Business Community Event, held last week, to the Modern Health Community Event on October 7th, the NEXT Data & Insights team is always tracking the emerging trends.
Out of 50 trends tracked, the top ten growing trends among innovators (exhibitors) between Expo East 2019 and what would have been Expo East 2020 were concentrated in the Mission-Driven category. Trends such as Multi-stakeholder (think B-corps and triple bottom lines), Sourcing Responsibly, Food Access, Agricultural Improvements, Regenerative Agriculture and Responsible Packaging are leading the charge and challenging brands to meet consumers through mission and value. Not only is it important to formulate with nutrient dense, clean ingredients, but adding mission and values-based commitments are challenges innovators and entrepreneurs are taking on as they blaze a new trail.
As we head into the Spark Change Modern Health Community Event, here are the top ten trends innovators are leveraging as they help consumers to live a life of vitality in this modern world:
1. Eat More Plants
From omnivores to vegans, the goal is to incorporate more nutrient-dense plants in the diet. Brands are creatively catering to picky children avoiding spinach and broccoli, adventurous adults seeking the latest exotic plant superstar, and consumers seeking meat and dairy alternatives.
2. Endocannabinoid System
The promise of CBD, hemp and the endocannabinoid system, are driving growth, experimentation, and innovation.
3. More Protein Please
There's been no standard protein limit shoppers follow, and in a carb-wary world, consumers are keen for opportunities to incorporate protein in lieu of carbs and sugar.
4. Plant-Based Ethics
The ugly side-effects of the livestock industry are drivers for consumers opting for more plants as they either reduce or avoid animal-based foods entirely.
5. Time-Honored Heritage Ingredients
Too much of our food comes from seeds and crops bred for durability and shelf stability, but smart brands are bringing long lost ancestral ingredients back into the lexicon of nutrition with ingredients rich in culture, history, and nutrients.
6. Healthy Fats
The fat-free era has met its match and healthy, full fats have made a comeback. Full fat dairy like ghee, as well as coconut and other plant fats are becoming more acceptable.
7. Brain Health
Consumers are seeking products to help them optimize cognitive function for peak performance; to remain smart and on point as we navigate life's many hurdles and challenges.
8. Plant Protein
There are other sources of protein and the plant-kingdom is full of options with exotic new entrants, as well as cleaned-up modifications of legacy heroes like soy and seitan. Consumers are seeking clean plant proteins with other nutritional benefits that are more efficient calorie sources from farm to stomach compared to animal-based products.
9. Optimized Diets
Many a food entrepreneur is entering this space by leveraging a specific diet to optimize performance, whether for physiological goals, cognitive goals or just improved nutrition.
10. Responsible Meat & Dairy Protein
It's no secret the egregious side effects of the meat, seafood, and dairy industry is wreaking havoc on our social and environmental conscience, prompting consumers to seek brands proving their commitment to producing responsible animal-based proteins.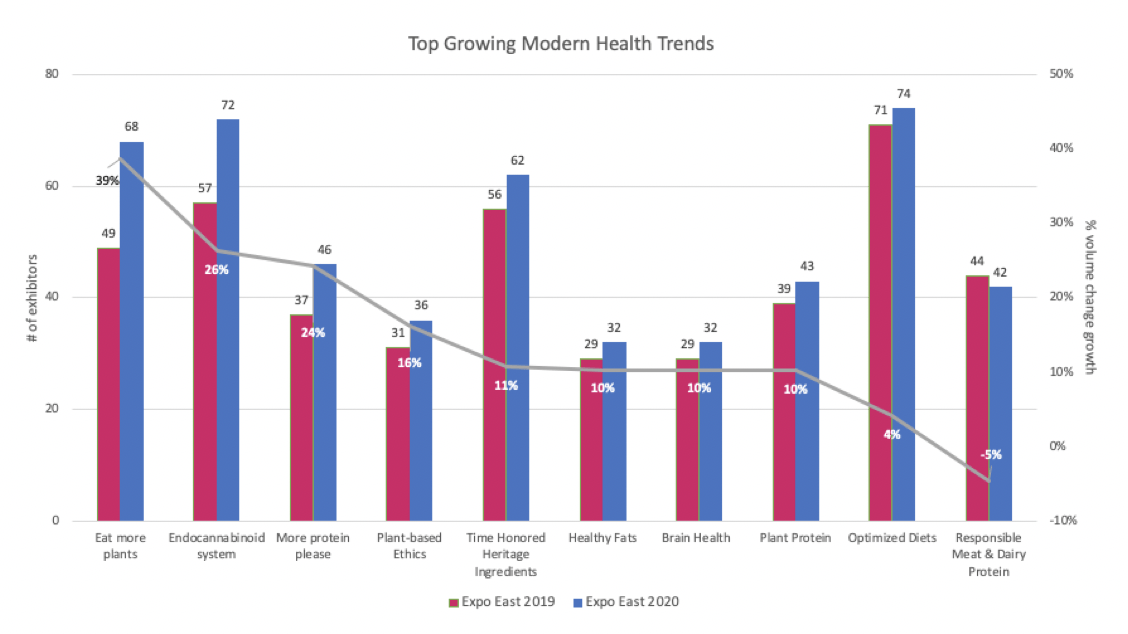 Finding the sweet spot of current trends for your target consumers is tricky, but there are many signals to help guide formulators and brands on their path to product development.
This trend data reflects where innovators are placing their bets on what will win in the marketplace, based on what we're seeing at New Hope Network's events (in-person and virtual). NEXT can also look at other signals, such as consumer surveying, social media listening, and investment outlook. Let's find out what's NEXT, together.
For more on modern health trends, don't miss the NEXT team take the virtual stage on October 7th during the Spark Change Modern Health Community Event. Our very own Eric Pierce, VP of Business Insights, will be speaking alongside Kathryn Peters, EVP of SPINS, presenting insights into the modern health trends shaping the growth of the natural products industry. Then tune in as members of NEXT and New Hope Network share their modern health product picks. Register today!
Plus, don't miss our expert's guide to the hottest trends in the natural products industry, with the NEXT Trend Guidebook 2020, only $99!