U.S. consumers buddy-up with the buy button
It's no secret that stay-at-home orders have led to an increase in online shopping and consumers are hitting the "Buy" button like never before – especially when it comes to groceries. U.S. online grocery spend has tripled, representing 10-15% of total grocery sales in early May, according to Bain & Company.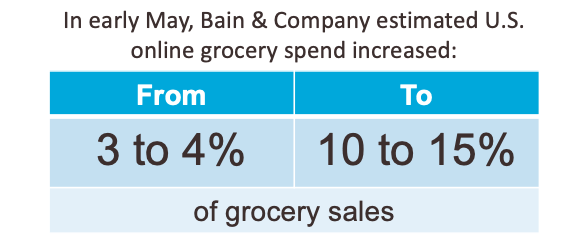 NEXT's own data from May showed a 30% increase in U.S. consumers who regularly buy groceries online – now representing 26% of U.S. adult consumers.

Expecting a reversion as stay-at-home orders ease? Not so fast! Our June research showed that only 50% of U.S. consumers agreed they felt safe going back to the grocery store. Between the convenience of online shopping and lingering safety concerns, customers are embracing the value proposition of online grocery shopping.
Our June data also showed that 59% of online grocery shoppers plan to continue at the same level and that 28% of online grocery shoppers plan to shop online for groceries more than they did during stay-at-home.
Online grocery is finally seeing traction, and these figures are setting the industry up for disruption. Passing the scroll test and landing in a shopping cart isn't an easy path to consumers' homes and hearts. In-store samples (what are those again?!), endcap placement and on-shelf discounts lose power when some customers aren't setting foot in the stores. Instead of waiting for those customers to find you, consider reallocating some spend into meeting them where they already are.
Strategies like reaching out via online grocery and other digital platforms, or building your direct-to-consumer business, have never been more viable. Plus, targeted online campaigns can connect you to your best prospective customers and allow you to tailor different messages to different customers, unlike the traditional store-based "spray and pray" campaigns.
Need help meeting your future best customer online or figuring out what to say to them? NEXT's Concept Lab can help with affordable consumer segmentation.