The plant-based market is still sprouting
The recent announcement of Dean Foods' bankruptcy filing has once again placed plant-based eating in the news. We often cover the topic of plant-based innovation, consumer attitudes, and the associated trends so our readers (that's you!) are well-educated on the topic. While we debated skipping this opportunity to write on the topic once again, we have some new data to share!
As a reminder, changes in cultural values and generational shifts are behind the growth of plant-based eating. Consumers today are more likely to consider issues related to the environment, social welfare, animal welfare, and health when making purchase decisions. Looking at the predominant beliefs of the past three generations reveals sizable shifts in consumer sentiment.
Consumer attitudes are shifting…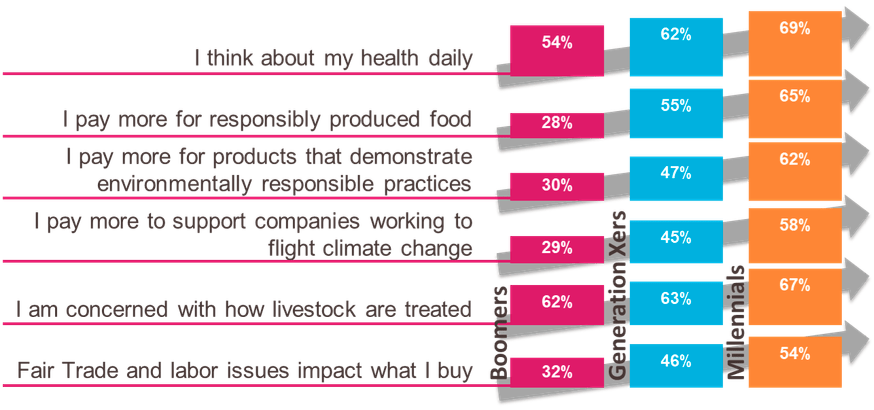 For many consumers today, vegan and plant-based diets represent something different now than they did in the past. Unlike the vegan animal activist stereotype of old, most consumers today associate vegan products with issues like health, sustainability, animal and social issues.
…and so are perceptions of vegan and plant-based foods.

The result is not necessarily dramatic growth in the vegan and vegetarian population, but instead growth in the number of "flexitarian" consumers, or those choosing to opt-out of animal-based products or choosing to opt-in to dairy and meat alternatives on specific occasions.
Most plant-based consumers are not vegan
An Ipsos-MORI poll quoted in a recent Economist article indicates that 38% of US consumers report drinking plant-based milk. This figure is comprised of the 12% of US consumers who drink plant-based milk only and the 26% who drink both plant-based and dairy milk. A recent NEXT Data & Insights survey both confirms this data and reinforces the generational shifts in consumer behaviors.

Ready to put on your innovation hat in 2020? Contact the NEXT team to learn more about the innovations and trends driving our industry and check out Natural Products Expo Connect to see these trends come to life. Start 2020 on the right foot by testing your product concepts in NEXT's Concept Lab and gaining valuable insights with our budget-friendly Market Research Surveys.