NEXT Trend Guidebook 2020
Discover brands innovating against the industry's hottest trends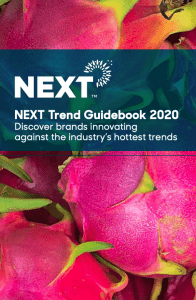 Trade shows may be on hiatus this year, but the natural products industry never rests!
To better meet the needs of today's industry professionals, we've updated this year's NEXT Trend Guidebook with:
More Trends: The 2020 NEXT Trend Guidebook details 57 distinct trends nested under 17 key macro forces, culminating from 3 paradigm-shifting cultural forces disrupting the CPG industry.
More Companies: We've analyzed the would-be exhibitors from Natural Products Expo West and East 2020 – over 3,000 finished goods manufacturers across Food & Beverage, Supplements, and Natural Living – and curated focused lists of the brands exemplifying each of those top trends shaping our industry.
More Connections: Ready to learn more about a trendsetting brand? With one click, visit that company's Expo Connect directory page to quickly view product images, labels, and contact information to kick off a conversation.
Dynamic, growth-poised companies are evolving now more than ever – and this year's NEXT Trend Guidebook will help you find them!